It has been said that we should ingest all the colors of the rainbow. Well, this salad is a crowd pleaser and a trifecta of colorful health.
First there is the anise-like taste of the fennel bulb. Fennel is widely used as a digestive aid that stimulates digestive enzymes. Food is whisked through your body and transit time is decreased with this healthy herb. If you have a spouse who tends to throw the wrong wind your way: fear not, Fennel is your new friend.
Beets are another vegetable of vigor. The aphrodisiac effect will help get you in the mood. The digestive help will keep you feeling light and active. All of those antioxidants will protect you from many of the chemical stresses of modern living. So color your salads with the vitality of beets.
From sea foam green, to deep red and now to the pinkness of Grapefruit. The weight loss benefits of grapefruit have been touted for decades but now we know of a wellspring of health we can harvest from this low sugar fruit. Lycopene not only gives the grapefruit its color, it gives your body a cage fighter in the prevention of cancer. Arthritic symptoms? Grapefruit and apple cider vinegar (also included in this recipe) is a great way to ease joint pain.
Ingredients
4 Fennel Bulbs
2 Medium to Large Red Beets (yellow beets can be too bitter)
2 Pink Grapefruit/Oranges also work well
¼ cup Mild Tasting Olive Oil
2 Tablespoons Apple Cider Vinegar
¾ tsp. Real Salt or Himalayan Crystal Salt
Stevia or Raw Organic and Local Honey
Preparation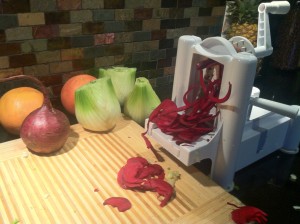 -Cut long stems off of fennel and slice bulb into thin pieces. This entire recipe works best with a spiralizer. (see photo) I recently saw the Paderno World Cuisine, Tri-Blade Plastic Vegetable Spiralizer for only 29.99 on Amazon.
-Beets can be julienned, grated or spiralized with the 1/8-inch smaller spacing blade.
-Peel the grapefruit and cut with a serrated edged knife into approximately ½-inch cubes.
-Combine all of these ingredients into a large bowl.
-Toss in olive oil, apple cider vinegar.
-Sweeten to taste.
-Garnish with a sprig of mint.
Be sure to use organic ingredients. There will be less toxins in the environment and better for the rivers, valleys and streams inside of your body.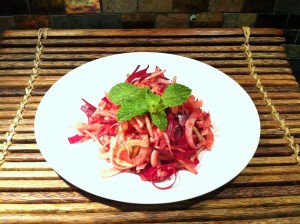 Provides approximately eight 1 and ½ cup servings
Bon Appétit,
Dr. Adam B. Fields
Chiropractor
www.fieldsfamilychiro.com