Detoxify in a Toxic World
After going through great strides to clean up our environment we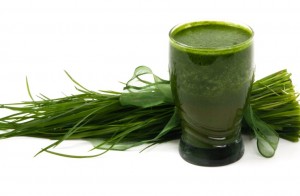 neglect to see that we are a part of the environment.  We have internal rivers, valleys and streams that need cleaning up also.  We need to detoxify. 
Radical detoxification programs can make us fatigued and unable to work.  However, with Ruthie's healthy detox diet we can slowly remove the toxins in our bodies faster than they are coming in. 
Even on a cellular level, we are being bombarded with environmental toxins that get trapped in our bodies.    With proper nutrition your healthy detox can be done gently, safely and effectively.  It's time to be free of the toxins in your life and know that your best days are yet to come!
Thank you Ruthie!
 I had been going to Curves gym for a year, but not losing much weight or inches. I was overweight, suffered from plantar fascitis (heel pain), and was in risk of developing diabetes. I realized that eating unhealthy food choices was not helping. I often bought lunch at my company cafeteria and would pick pastas and order French fries.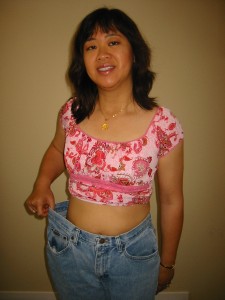 So, it was an easy program to follow if you didn't mind the narrow food choices. I brought a huge bag of food each day to work, which I would eat every 2-3 hours throughout the day. Eventually, other foods were added one at a time, including fruits and salmon. I also increased my exercise to include working out on the elliptical trainer for 30-45 minutes 2-3 times a week, using light free weights to tone my arms, and 5 sets of 30 repetitions of abdominal exercises daily.
Each week, I was amazed to lose 1-2 lbs. The pounds came off and so were inches off my waist, arms, tummy, hips, chest, and thighs. Within the first month, the results were noticeable. My too tight size 10/12 jeans were loose! I could even stuff shirts inside the jeans and still felt loose.
Eventually, my pants were so loose that I had to buy new pants in May. A size 6! I hadn't been in that size since college. Coworkers and friends were noticing too and asked what I was doing. My goal was to lose 30 lbs and I was on track to lose it within 6 months. And I did. By August, I had reached my goal weight of 112 lbs. and wear size 3 jeans. I can even wear  girl's size 16 tops and bottoms. I have successfully kept the weight off because I know how to shop for and cook healthy foods. I also lost a total of 28 inches from my body and reduced my body fat percentage from a very poor 33% to a healthy 22%. Start weight : 142 lbs. Final: 112 lbs.
I'm almost done with the second part of Ruthie's weight loss plan, which is maintenance and detoxification of the body. Using Ruthie's guided detoxification program I did a colon, liver and heavy metal cleansing.
Ruthie does not believe in using drugs to lose weight or weight loss centers like Jenny Craig because you don't really learn nutrition. Often people gain the weight back after going off the pre-packaged food plans. Ruthie has tried almost all types of weight loss methods and knows what works and doesn't work for the long term.
March 2009 update:
I have maintained my weight since 2006 and have added a larger variety of exercises. I joined the local YMCA and swim laps, strength train, and attend fun classes like Zumba. Recently, we were watching family home videos from 2005 with my two kids. There was one scene where my tummy was in the background. My daughter said, "Mommy, you have a baby inside." And I said, "No, mommy was just fat." And then my son said, "But you're not fat anymore!"
Rebecca Chinn – San Jose, CA