EXTRACORPOREAL SHOCKWAVE THERAPY (ESWT) FOR
ACHILLES TENDONITIS AND ACHILLES TENDINOPATHY IN THE BAY AREA
Regrow blood vessels in the achilles tendonitis tissue [2]
Stimulate new collagen fibers in your achilles tendon [1]

Effectively treat your achilles tendinopathy [3,4,5,6]

Get you back in the game with extracorporeal shockwave therapy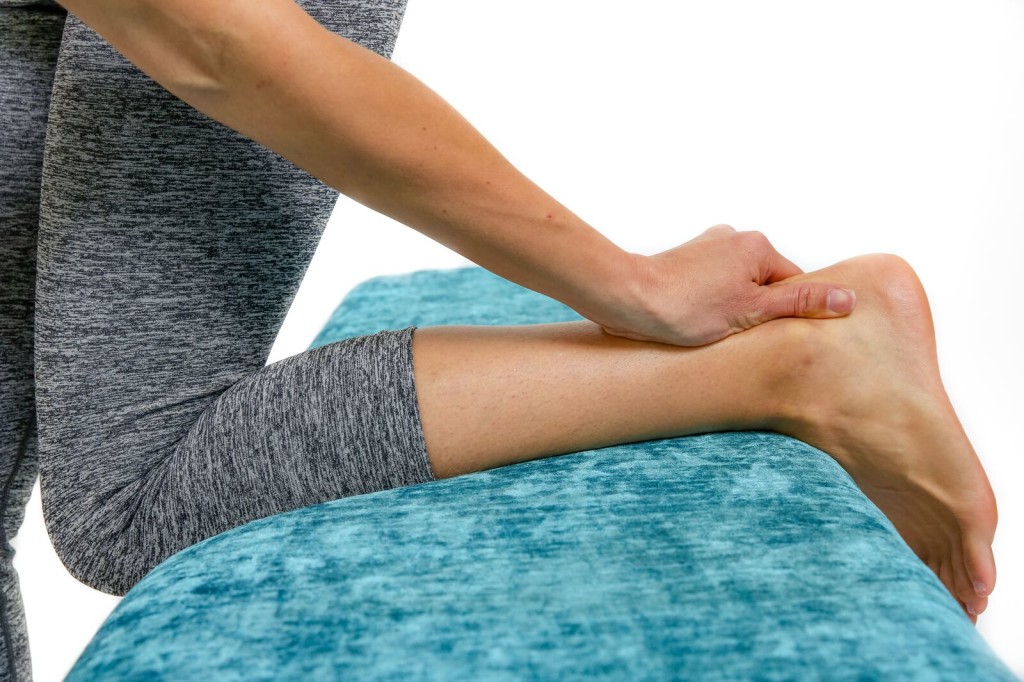 Your achilles tendons run from your calf muscles to your heel bone. You rely on them whenever you lift a heel of the ground:  So, when walking, running, jumping or pivoting, your achilles tendons are indispensable. So, how does achilles tendinopathy or achilles tendonitis and extracorporeal shockwave therapy relate?
HOW DOES ACHILLES TENDINOPATHY OCCUR
The achilles tendon can rupture but it can also just get micro tears from overuse or not warming up your muscles before strenuous activity. Unfortunately, the achilles tendon has a poor blood supply and this makes the tendon a slow and inefficient healer.  When it heals it lays down tissue that is less organized than the original tendon.  This tissue is brittle and it further decreases blood flow to the achilles tendon.
All of this leads to stiffness, pain, inflammation and more deterioration of the tendon.
SYMPTOMS OF ACHILLES TENDINOPATHY OR ACHILLES TENDONITIS 
Aching in the back of the leg

Extreme pain after running or climbing

Morning stiffness

Sore feet

Decreased strength

Swelling of the ankle
ACHILLES TENDINOPATHY  OR ACHILLES TENDINITIS ARE COMMON WHEN…
Hikers go up hills

Baseball players round the bases

Runners push off their feet

Basketball players rebound

Volleyball players spike
HOW PIEZOWAVE ESWT HELPS ACHILLES TENDINOPATHY
The Piezowave 2 (The extracorporeal shockwave therapy machine we will use on you) sends acoustic shockwaves into the deranged achilles tendon.  This is, actually, a mechanical type force which causes the tissue to ripple.  Harder tissue like scar tissue will break and then blood is allowed to come in the area and, over a course of weeks, healing takes place.  We will work on the tissues above and below your achilles tendon also.  
You may feel results within the first couple visits. However, after an average course of approximately 6-9 visits (depending on what we find) we may then allow time for your body to do the healing on a cellular level.
ESWT/ACHILLES TENDINOPATHY and ACHILLES TENDONITIS RESEARCH
There are some quite favorable results when studying the effects of ESWT on achilles tendinopathy [3, 4, 5, 6, 7]. Even studies comparing widely accepted physiotherapy treatments for achilles tendinopathy and achilles tendonitis versus ESWT showed better results when treating chronic recalcitrant achilles tendinopathy with extracorporeal shockwave therapy [3]. Also, realize the results mirror the success with patellar tendinopathy of the knee.  We could post a lot more research had we included these studies and the studies of dissected tissues showing regrowth of collagen and blood vessels.  
The research, and the experiences in our office, should give you hope for recovery. (408) 274-2244
PREVENTING ACHILLES TENDON INJURIES
Stay hydrated when doing sports

Warm up prior to activity

Support your feet with good shoes

Ease up on uphill running

Up your exercise intensity gradually

Listen to your body and stop if you feel pain